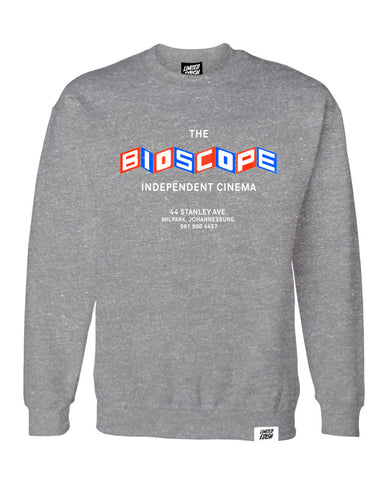 Every winter, Limited Edish will be releasing new designs and some old favourites as sweaters. It would be an honour to keep you warm this winter!
The Bioscope has proudly been Joburg's independent cinema space since opening in 2010. The Bioscope's lobby is also the home of Limited Edish's official Joburg store for all those who haven't picked that up yet!
ORDERS NOW OPEN. LIMITED TO AN EDITION OF 100 SWEATERS. SEE MORE PRODUCTS FEATURING THIS ARTWORK HERE.
As the iconic Cinerama Dome in Los Angeles still remains temporarily closed, The Bioscope is so grateful to have made it through the pandemic, and so incredibly thankful for all the support it received! This fun homage to the iconic logo is the first of hopefully many ways we will be playing with the Bioscope name.
Big loves to design studio 'Hungry Creatives' for the help in realising this idea.
IF YOU'RE NEW TO THIS, please see our Size Guide & Shipping Policy, as well as what we are all about and why we can be trusted.
Related Products
---