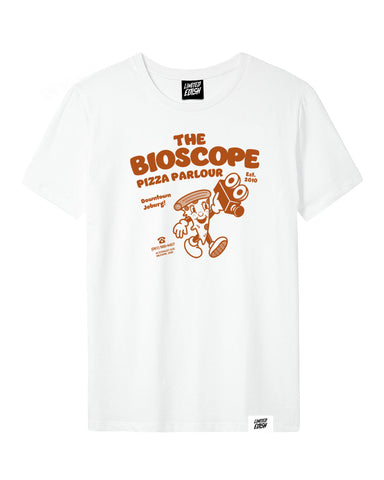 The Bioscope is an Independent Cinema located in Johannesburg. For those that might have missed it, The Bioscope is our other business! Hence why our Limited Edish Joburg Store is located inside the cinema's lobby.
Since the start, The Bioscope is known for its yummy pizzas, and so for this release we thought it would be fun to imagine The Bioscope as less of a cinema, and more as downtown pizza parlour one might find in the West Village of New York City. Big loves to the talented Marigold for helping us realise this.
ORDERS NOW OPEN. LIMITED TO AN EDITION OF 100.
IF YOU'RE NEW TO OUR STORE, please see our Size Guide & Shipping Policy, as well as what we are all about and why we can be trusted.
Related Products
---